Careers
Careers Education Information Advice and Guidance: Futures Programme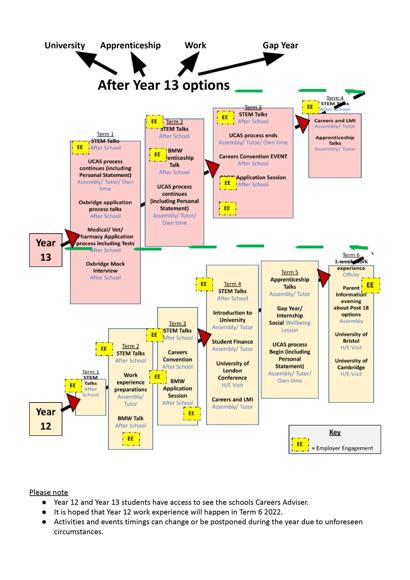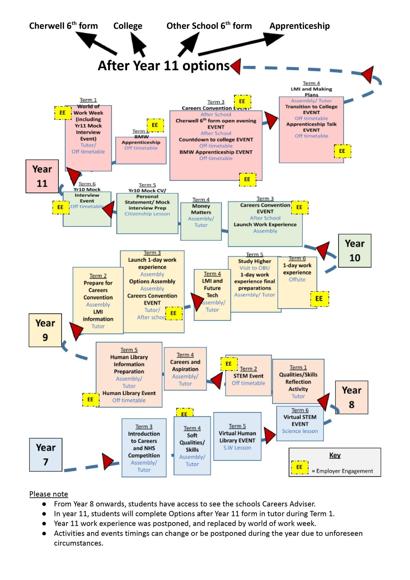 The career journey (above) starts from Year 7 and will continue each year. We focus students on getting to explore themselves and the opportunities around them. Then we support them with the knowledge and experience they need to make positive career choices.

If you are a Businesses or a Learning Provider that would like to support our programme please email jdavis@cherwellschool.org
1 to 1 Guidance
Jason Davis is our Level 6 Qualified Careers Adviser and Careers Leader who can support
students future planning by offer information, advice and guidance on Careers and
Education (6th form, College, University, Apprenticeships, etc)
Jason's office is on North Site between S11 and Learning Support.
To make an appointment email jdavis@cherwell.oxon.sch.uk
Careers Convention
This is an annual event usually ran in January in school. It brings together businesses from all different sectors and local training providers, further education providers and higher education providers. This events also students and parents an opportunity to talk to different employers and/ or organisations to learn more.

If any business or organisation would like to be invited to this event please email Lynda Dale ldale@cherwell.oxon.sch.uk
Futures Programme related activity
Some of the main career activities are as follows
Year 7 – Soft Skills
In term 4, we invite local employers in to talk to students about the important of soft skills. This will allow students to self-evaluate and make
Year 7 - Virtual Human Library
In term 5, students have an opportunity to virtually meet with many employer volunteers from different sectors in a carousel approach to ask questions about their roles and their experiences (from education to employment).
Year 8 – STEM Event
Usually in term 6, STEM which stands for Science, Technology, Engineering and Maths, this event brings together an employer from this sector to educate our students on important STEM related issues.
Year 8 – Human Library
In term 5, students have an opportunity to meet with many local employer volunteers from different sectors in a carousel approach to ask questions about their roles and their experiences (from education to employment).
Year 9 – 1 day Work Experience
In term 6, this is an opportunity to go with a family member to work, or do something work related in school.
Year 10 – Mock Interviews
Usually in term 6, students have an opportunity to be interviewed by employer volunteers. This gives students a good opportunity to practice their application and interview skills.
Year 11 – Open events
Throughout year 11 students are encouraged to attend open day/ evening's event at different organisations to learn more about what they offer after year 11.
Careers in the Curriculum
Teachers highlight Careers linked to their subjects.
In year 10 Citizenship lessons, students are taught soft skills, how to write a CV and look at interview techniques for preparation for their mock interview. We are currently looking at best practice to increase learning about Careers in the Curriculum.
Work Experience (Year 11)
The planning and processes around work experience will start in Year 10 usually in term 4 or 5. It is hoped many students will be able to participate in work experience in the real working environment. The one week work experience will take place in Term 1 of Year 11.
Students will be able to select what type of work experience they would like
The different work experience packages that will be on offer are;
Pick a placement from our database

Find your own placement (Must be approved)

Work experience in school

Virtual Work Experience
Work Experience (Year 12)
In the Sixth Form, there is an additional opportunity for students to undertake work experience during July of Year 12. Work Experience at this stage should be in the sector/role linked to students' career aspirations.
It is particularly useful for students applying for vocational degrees at university e.g. Veterinary Science, Medicine, Nursing, Teaching etc.
It is also helpful for those students seeking an apprenticeship or other employment opportunities after their A-level studies.
University
Apprenticeship explained
An apprenticeship is a real job where you earn, learn and get paid.
The different levels of Apprenticeship;
| | | |
| --- | --- | --- |
| Masters Apprenticeship | Level 7 | Need to have a degree or equivalent. |
| Degree Apprenticeship | Level 6 | Need good grades at A-levels or equivalent. |
| Higher Apprenticeship | Level 4 or 5 | Need A-levels or equivalent. |
| Advanced Apprenticeship | Level 3 | Need good GCSE grades or equivalent. |
| Intermediate Apprenticeship | Level 2 | Might need some GCSE's or just show passion and that you are committed. |
Nowadays, nearly all jobs have an apprenticeship route.
To search for an apprenticeship go onto https://www.gov.uk/apply-apprenticeship
If seriously interested in an apprenticeship then you should register.
More information about apprenticeship can be found on https://amazingapprenticeships.com/apprenticeships/
T-level explained
T Levels are two-year, technical study course, designed with employers to give you the skills industry needs.
You take just one T Level – which is equivalent to three A Levels
Unlike A Levels, T Levels provide:
technical knowledge and skills specific to your preferred career

an industry placement of at least 45 days

Maths, English and digital skills

Common workplace skills.
More information about T-level qualification can be found on https://www.tlevels.gov.uk/
Labour Market Information (LMI)
LMI is a useful to help to understand future jobs in your local area, understand the skills needed for certain roles and the demand for future employment.
LMI helps to break down the complex 'world of work'– ranging from descriptions of different careers, their entry routes, promotional prospects, salaries paid, skills and qualifications needed, etc. Crucially for young people, LMI also covers future demand – what kinds of jobs will be in demand after leaving school and what kinds of skills will be needed.
Oxfordshire LMI can be found on https://www.oxfordshirelep.com/skills/labour-market-information
Finding A Job Resources
Careers information online
Finding a job Resources
Useful Weblinks